『THE HISTORY OF GENESIS』SPECIAL PAGE [ENGLISH] 
The long-awaited 2nd album of Japanese melodic metal band "Jupiter" is released!!
Their myth will be passed down forever…

THE HISTORY OF GENESIS

2015.1.7 RELEASE
■Limited Edition [CD + DVD] POCS-9080  3,500 yen (tax not included)
■Regular Edition [CD] POCS-1307  3,000 yen (tax not included)
Production & Release by zenorecords / Distributed by Universal Music
"Jupiter" and their world-class heavy metal sound is the one and only.
Based around the motif of Greek myths, this album expresses and illustrates the essence of love and beauty.
Their lyrical melodies have reached the higher dimension and the spirit of melodic metal sound is here!
1. The Birth of Venus
Lyrics & Music : HIZAKI
The greatest characteristic of Jupiter's sound: melodic speed metal.
It has reached a new, more evolved and progressed dimension.
This song is the ultimate symphony of love and beauty.
2. LAST MOMENT
Lyrics & Music : HIZAKI
This second single tells you to feel the beauty and preciousness of life at this moment.
3. Darkness
Lyrics : ZIN / Music : HIZAKI
A solemn symphonic melodic death metal. All lyrics are written in English,
showing Jupiter's high global awareness.
4. B.L.A.S.T
Lyrics : HIZAKI / Music : TERU
This heavy rock number was written for a speedy live performance.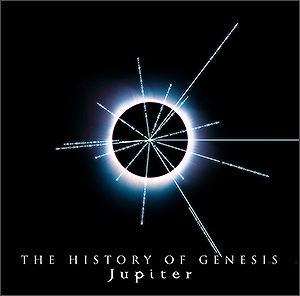 Feel the wandering heat wave!!



5. THE MOON




Lyrics & Music : HIZAKI


This song attempts to break a new frontier by expressing a touch of adult romance.
It sings the heartrending feelings of having to part with your loved one,
even though you love him/her.



6. KOORI NO NAKA NO SHOUJO




Lyrics & Music : HIZAKI


The song has been arranged in detail with an excellent tempo,
expressing feelings of sadness inside the heart from a woman's perspective.



7. Church Candle




Music : HIZAKI


The only instrumental number in this album.
A guitar concerto full of lyricism, or is it the prayer of the guitar?



8. Red Carnation




Lyrics : HIZAKI / Music : ZIN


A musical metal number almost like dramatic art!
The lyrics "AI WA SUBETE O KOERU" (LOVE is beyond all)
in this number might be the key phrase of this whole album.



9. ZETSUBOU LABYRINTH




Lyrics & Music : HIZAKI


The guitar battle of HIZAKI and TERU is the highlight of this aggressive song,
yet it's full of original beauty.



10. Shining




Lyrics : HIZAKI / Music : TERU


The catchiest rock number in this album,
it also carries a positive message that Jupiter wants all generations to hear.



11. ARCADIA




Lyrics & Music : HIZAKI


With an impressive guitar riff and beautiful chorus, everyone wants to sing-along.
Combine those elements with an extreme guitar solo and you are taken to their Utopia.



12. Luminous




Lyrics & Music : HIZAKI


A ballad with magnificent scale: you can't listen without tears,
but your tears will be filled with brightness.



13. The History of Genesis




Lyrics & Music : HIZAKI




The last suite summarizing the myth to conclude this album.


The song has progressive musical elements and uses various irregular meters,
which leads you out into the universe.


Their myth will be passed down forever…





14. SACRED ALTAR

(Regular Edition)




Lyrics : ZIN / Music : HIZAKI


A standard number in Jupiter's live shows, and a sound source always desired by their fans.
The contrast of devastation and beauty in this song makes it unique to Jupiter's creations.

【Limited Edition : DVD】
~Music Video of ~


『LAST MOMENT』




『ARCADIA』




『The Birth of Venus』



Produced by HIZAKI
Arrangement : Jupiter

Art Direction & Design : TERU




THE HISTORY OF GENESIS [w/DVD, Limited Edition]
http://www.cdjapan.co.jp/product/POCS-9080

First Press / External Bonus : promotional poster with handwritten autograph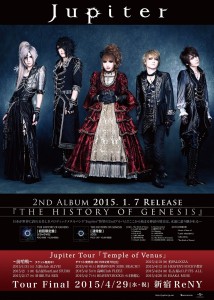 THE HISTORY OF GENESIS [w/DVD, Limited Edition]


http://www.cdjapan.co.jp/product/POCS-1307

First Press / External Bonus : promotional poster with handwritten autograph [No longer available]